It has been a rough winter. A long, cold and snowy one. While I enjoy the snow and the change of seasons, I am ready for the heat now. No promises that I'll continue to have those feelings when it's 100 degrees outside. Just remind me of this winter.
Please and thank you for your consideration.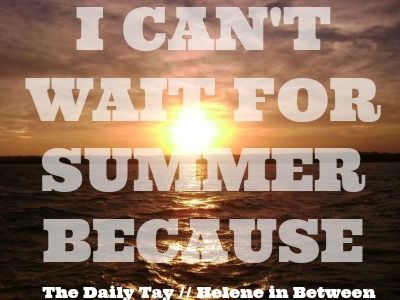 Shorts and tank tops. As much as I love my leggings and big shirts, I'm ready to switch my wardrobe up.

Walks and runs outdoors, with my pup! Because it's completely unamerican to do so in the cold, right?
More motivation. Warm weather makes you have that. It's pretty much a scientific fact.

Tan lines. Looking a little ghostly these days.


Farmers Market and veggies from my parents garden. Clean eating will be at an all time high.


My daughters birthday. How in the world is she going to be 7?! Bittersweet.


No School! My kids are not fun to wake up, hell neither am I. It will be nice to cut some slack on routine and be a little carefree!


Flip flops, all day errday.
Iced coffee. Yep.


Windows open. There is nothing like a home with a fresh breeze blowing through.


Flowers and greenery. Tired of seeing brown everywhere I look.


No coats, no layers, no problem!
Grilling. Not on the George Foreman.
Bright colors. Clothes, nails, you name it!
Sitting outside at night. With OFF and a citronella candle of course.


Longer days. Not technically, but you get it.


Concerts. None planned so far, but I would normally say this.


Summer Premieres. You know, for when I'm not outside. Pretty Little Liars! True Blood! Bachelorette! Big Brother!
Patio lunches/dinners. When it's not sweltering.


And one of the biggest reasons is MY BESTS WEDDING!!!!
Link up and tell everyone why YOU are excited for the summer!