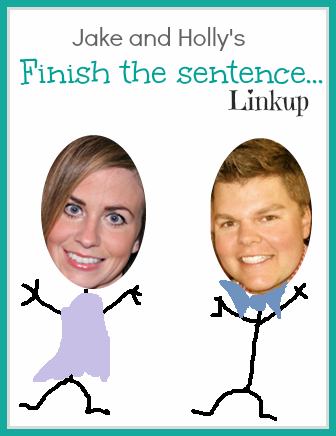 Linking up with Holly (Where We Can Live Like Jack & Sally)



1. If calories didn't count, I would eat pizza and mexican in a rotation, for realz.
2. On my Prom night,
PROM? I didn't go to prom and I don't really regret it either.
3. When I go to the store, I always buy.. well there's a lot I ALWAYS buy, but milk, fruit, avocados, brownies, chips. Great combination, eh?
4. Family functions typically are relaxing with my fam and cray cray with Shons.
5. I think my blog readers are the bees knees.. new to the blog world, but getting to know lots of awesome ladies!
6. I'd much rather be in Chicago. Need to go ASAP. Shon, if you are reading this, it's a hint demand.
7. I have an obsession with lip gloss, my louis vuitton, leopard print... and Justin Timberlake. (Sick of hearing about him yet?)
8. My work friends are my cat & dog. I work from home. Be jealous, we have some pretty cool conversations.
9. When I created my Facebook account, it was called THEfacebook and it was simple & fun.
10. My least favorite word is
penetrate, moist & crevasse. Don't get me started on using all those together in one sentence.
11. I really don't remember much about Superbowl 44, when my beloved Colts LOST to New Orleans.
Thanks Mr. Kendra Wilkinson Hank Baskett.
First time drinking since having Tristan = ANGRY drunk, passed out on a bar & then got kicked out. Just keepin it classy over here.
12. Justin Bieber has catchy music but is turning into a little punk. Pull up your pants and leave the high notes to my main squeeze, JT!
Remember yesterday when I said Sunday brought us snow? Yes, indeed it did. Over 9 inches of it. We have some absurd weather here in the midwest, but this was just uncalled for. Ain't nobody got time for that!
All bundled up and ready to play!
Normally I would take the time to get them all bundled up and then they are inside minutes later. Nope, not this time. They played outside for a good hour. Cubbie loved the snow too, which is shocking seeing as how he can be high maintenance and won't even go outside when it rains. Wonder who he gets that from...
Hot chocolate (or coffee in my case) is a must to warm up. Yes, I thought this mug was appropriate for mother natures behavior.
Chicken Alfredo Pizza
pizza dough (I buy mine at trader joe's)

1 cup shredded chicken (I boiled and seasoned 1 chicken breast)

2 tbsp butter

1/2 tsp garlic powder
1/8 tsp onion powder
1 tbsp flour, plus more for dusting
1/2 cup + 2 tbsp heavy cream
1/2 cup + 2 tbsp milk (I used 2% milk)
2 oz finely shredded Parmesan cheese (1/2 cup)
Salt and pepper
4 oz shredded Mozzarella cheese (1 cup) (I used a pizza blend)
6 slices bacon, cooked and chopped (optional)

1 1/2 Tbsp chopped green onions (optional)
Preheat oven to 425 degrees. I used a stone, so make sure that gets preheated. Melt butter along with garlic powder and onion powder in a medium saucepan over medium heat. Whisk in flour and stir constantly for about a minute. While whisking slowly pour in cream and milk. Bring mixture just to a boil while continuously stirring. Allow mixture to boil for 20 seconds, keep stirring! Remove from heat, add in Parmesan cheese, season with salt and pepper to taste then return to warm heat and stir occasionally until ready to use.
For my dough, I had to flour a clean surface to roll out. Stretch out dough on pan or baking stone. I highly recommend investing in a baking stone if you don't already have one. Pour half of the alfredo sauce over dough, then use the back of a spoon to spread into an even layer. Sprinkle shredded chicken over sauce layer, then pour remaining sauce evenly over chicken. Sprinkle top evenly with Mozzarella cheese then sprinkle with chopped bacon. Bake in preheated oven 14 - 16 minutes until crust is nicely golden. Remove from oven, garnish top evenly with green onions, cut into slices and serve
.
ENJOY!!